Warm food for cold days :-)
Being in Wisconsin in the middle of winter makes you take a second look at those vegetables that can handle such conditions, mainly our lovely friends the 'root vegetables.'
Since arriving here I have been encouraging my newly retired parents to recognize that they have one luxury that many people do not: time. With this extra time, they are free to take on projects, plan out their days and most importantly, take more time than they could in their busy working lives to create and invest in their food.
To go along with this suggestion, I myself went a venturing to seek out some exciting new recipes (at least to me :-) to share and have them, as well as my readers enjoy.
Here is my first installment of what I would like to refer to as my new series of blogs lovingly referred to as my 'Goodie Foodie."
CREAMY TURNIP SOUP
http://www.eatingwell.com/recipes/turnip_soup.html
From EatingWell: November/December 2012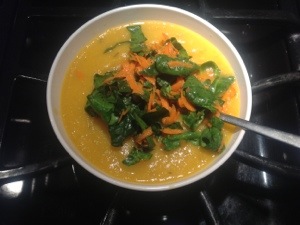 Photo: Erika Anderson, Dec 2012
Creamy Turnip Soup
[facebook_like_button][facebook_send_button]
In this recipe, the humble turnip is transformed into a rich turnip soup made creamy with just 1 tablespoon of butter. Serve it as a starter or side soup. The mini salad on top is optional, but we love the bit of texture from the greens and pop of flavor from the vinaigrette.
6 servings, about 1 cup each | Active Time: 30 minutes | Total Time: 45 minutes
Ingredients
4 medium turnips (about 1 1/2 pounds) plus 1 1/2 cups thinly sliced turnip greens or spinach, divided
2 tablespoons extra-virgin olive oil, divided
1 tablespoon butter
1 medium onion, sliced
1/2 teaspoon dried rosemary
1/2 teaspoon salt plus a pinch, divided
1/4 teaspoon freshly ground white pepper plus a pinch, divided
4 cups reduced-sodium chicken broth
1/4 cup shredded carrot
2 tablespoons thinly sliced scallion greens
2 teaspoons white-wine vinegar
Preparation
Peel and slice turnips. Heat 1 tablespoon oil and butter in a large saucepan over medium heat. Add onion and cook, stirring, until beginning to brown, about 5 minutes. Add the turnips, rosemary, 1/2 teaspoon salt and 1/4 teaspoon white pepper; stir to combine. Cover and cook, stirring once or twice, for 10 minutes.
Add broth, increase heat to high and bring to a boil. Reduce heat to maintain a simmer, cover and cook until the turnips are tender, 10 to 12 minutes more.
Meanwhile, toss the turnip greens (or spinach) in a medium bowl with carrot, scallion greens, vinegar, the remaining 1 tablespoon oil and pinch of salt and pepper.
Puree the soup in the pan using an immersion blender or transfer to a regular blender and blend until smooth. (Use caution when pureeing hot liquids.) Serve each portion of soup topped with a generous 1/4 cup of the salad.
Nutrition
Per serving : 110 Calories; 7 g Fat; 2 g Sat; 4 g Mono; 5 mg Cholesterol; 10 g Carbohydrates; 4 g Protein; 3 g Fiber; 659 mg Sodium; 401 mg Potassium
1/2 Carbohydrate Serving
Exchanges: 2 vegetable, 1 1/2 fat
ENJOY!
Share your reviews :-)